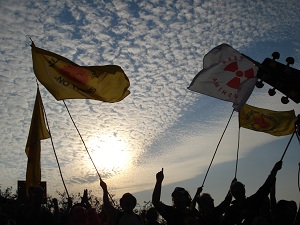 Anti-nuclear protesters declared the mass blockade at Hinkley Point on 3rd October as a victory over EDF Energy. The nine-hour blockade in Somerset attracted supporters from all over the UK including Rising Tiders from London, Bristol & Plymouth. Several people came from as far afield as France, Ireland, Germany and Belgium as numbers topped 250.
Convoys of protesters began to arrive at the main gate shortly before 7am. The entrance is just yards away from where EDF Energy is making a bid to build two new mega-reactors.The blockade was launched with the arrival of a theatrical troupe Nuclear Investigation Team who enacted a nuclear disaster scenario similar to Fukushima. Stop New Nuclear spokesperson, Andreas Speck, said the blockade has put the government and EDF on the back foot. 'Following the interest this blockade has attracted, both regionally and nationally, the government and EDF can no longer claim that the we need nuclear energy to keep the lights on.' He continued: 'Germany has committed to a nuclear-free future without buying nuclear power from France or building new coal-fired power stations. The German government is looking at a decentralised energy model with a mix of renewables and Combined Heat and Power (CHP) to bridge the gap left by withdrawal from nuclear.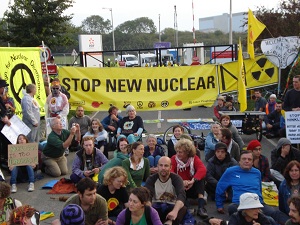 If Germany can do it, so can we' Angie Zelter, who hit the headlines in 1996 when she and other activists attacked a Hawk jet destined to suppress protests in East Timor (and was subsequently cleared of criminal damage by a jury), blasted EDF's claims that Hinkley Point is sustainable. She added: 'Over its lifetime, Hinkley will consume more energy than it produces - if you take into account the energy used to extract uranium and the power needed to store radioactive waste for hundreds of years. It doesn't add up. 'Zelter said the risk of flooding is an increasing worry. 'Locals are well aware of the constant danger of flooding around Hinkley,' she continued. 'We have information from workers there that several years ago, floodwater breached the plant's retaining walls.'She added that this was a particular concern now that EDF wants to build two new mega reactors at Hinkley.
'Radioactive waste from the proposed new ERP reactors will be so toxic that it will have to be stored on the site for over 100 years. With the growth in extreme weather conditions there is no guarantee that this waste can be stored safely.'The mass blockade was described by Stop New Nuclear organiser, Andreas Speck, as a, 'celebration of dissent' with pro-nuclear supporters being entertained by a Welsh choir and popular activistl band, Seize The Day.A man arrested on a footpath close to the blockade was later released without charge. No vehicles gained access during the day as all deliveries were cancelled or turned away.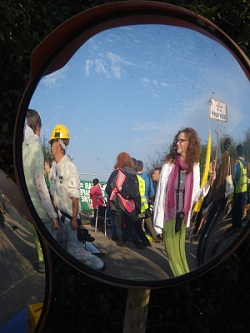 Tony Cottee from Rising Tide said "EDF have bust open the "help to stop climate change myth" themselves by stating it will take 12-15 years to construct, by which time we will be looking at more than 2 degrees C without the lifestyle changes necessary to reduce emissions"."The blockade was a success in mobilising people to get organised for future resistance against new nuclear build of eight power plants around the UK. EDF don't care how much it costs to get a new EPR reactor built in the UK, with the help of the French taxpayer, as it is essential in their business plan to have a "working" model in the UK to sell EPR to "developing countries".